First Impression: Lumotec IQ CYO

After three years, my faithful Inoled +10 dynamo light has lost sufficient brightness that it is no longer really useful. Within the last month, the light has waned dramatically to a specter of its former self. Its maximum brightness has reduced noticeably and the stand light barely functions at all. I'm not quite sure if this is the normal lifespan or if I somehow accelerated its decline because I didn't run it with a tail light. Regardless, I was on the market again for a new dynamo light.
After reading EcoVelo and PalmBeachBikeTour's description of the Lumotec IQ Cyo R N Plus dynamo light, I decided to pull the trigger. I usually would get the light from PeterWhiteCycles, but after a wild goose chase of playing phone tag I made one quick call to CleverCycles spoke to Dean (they had it in their store) and they shipped the light with no fuss to Austin, TX.
EcoVelo has broken down the various variations and name conventions of the Lumotec Cyo, so I won't duplicate that here. Needless to say, Busch Muller should probably consider a different naming convention (rather than adding orphaned letters to the end), since it was a nightmare talking to bikeshops when I was trying to find it locally in Austin.
My version of the Lumotec Cyo is chrome, has the nearfield reflector and a senso setting.
Mounting
I'm using the light with a Shimano dynamo hub which required that I put the two wires into a little plastic plug that mates with the hub. There are two wires, the ground and the current. The plastic Shimano dynamo plug is marked on one hole with what looks like Poseidon's pitchfork – connect the wire with the current that is the ground there (black and white housing) and it should work without a problem. (Thanks Jimmy for point that out…I had it wired backwards and it still worked).
Here is an image of how to attach the wiring.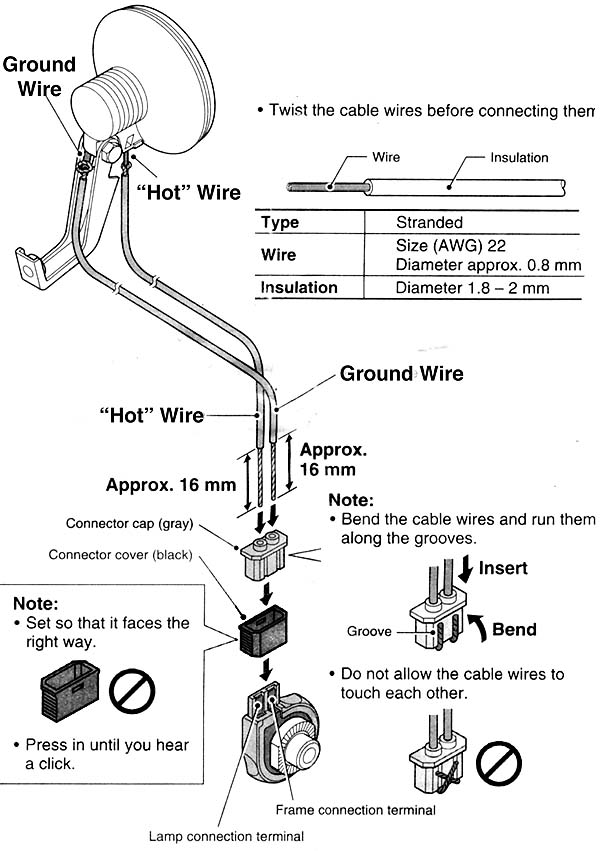 The Lumotec Cyo comes with a wire mounting bracket. I had planned on mounting it like how it was shown on PalmBeachBikeTours, but it interefered with my Acorn bag. So, I had to use a DIY bracket I made from some scrap bike parks.

I tried to mount it this way originally but it didn't work because the light ran into my rack bag.

My DIY mounting bracket.
Operation
There is a black 3 position switch on the Lumotec Cyo I have. You get three settings: Off, Senso, On. When set to Senso, the light senses when it is dark and turns on. When set to On, the light is always running. The switch has a fairly positive feel but there is a little play. I much prefer it to the squishy button on the Lumotec.
The version of the CYO I have is chrome. The chrome is not aluminum but plastic made to look like chrome. It is appealing and mixes well with silver components, but time will tell how it will wear.
There has been much to do about the "nearfield" reflector and having used it for a few nights I'm not quite sure what the big fuss is. I suppose I would have to compare it directly with the version without the reflector to really know, but my initial impression is that yes it sorta lights up the area in front of you, but dont' get the idea that it is a uniform brightness.
I suppose my expectation was that there would somehow be this real bright pool of light right in front of my tire, but that's just not the case. The effect is more of a semi-controlled light spill that sheds some illumination in front of you. I'll be perfectly honest here, I was a bit underwhelmed especially with the big to do about nearfield this and nearfield that.
Having said that, the light is indeed bright. Not in a blinding million lumen sort of way, but surely bright enough to light up road imperfections that could ruin an otherwise pleasant night ride. I feel pretty confident that it is sufficient for the speeds that I ride when we're touring. It seems to reach optimum brightness at fairly slow speeds which is good for when you're huffing up hills.
I have only had the light for about a week, so these are just my inital impressions. I'll write more in the coming weeks. For now, the Lumotec CYO R N Senso Plus (can it get anymore confusing?) seems like a great light for the money. Not quite as bright or easily pronounceable as say Edelux or SuperNova but it is more affordable (probably because they skimped on hiring someone to name their light).
Alas, I jest.
It's a good light and I do recommend it for those that have a dynamo hub that want a good light for in-town commuting and touring.